"The role of the supervisor is to refer employees to help"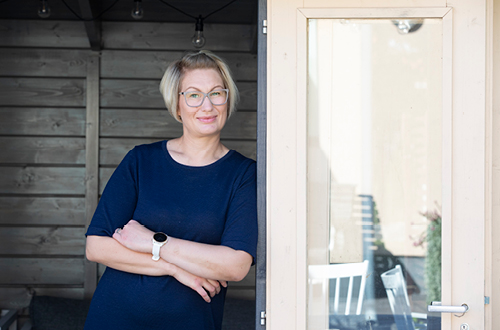 As a supervisor, I have many opportunities to build flexible solutions for different situations and, in this way, support well-being at work and mental health, says Director Salla Hakala.
"In my job, I am responsible for production strategy – the ways and choices we make to help our customer companies take care of their cash flow. I have two teams of supervisors and development managers who work as specialists.
Lowell is a very typical IT workplace in terms of mental health problems: we wrestle with the themes of busy work schedules, workload and workload management, as well as the work-life balance.
An important role of the supervisor is to create an atmosphere of empowerment in the workplace: you can always do something about problems. For example, if an employee is feeling stuck with their work or is too busy, I instruct them to slow down for a moment – calming the hectic situation is the responsibility of the supervisor. Of course, there are some urgent tasks in our work, but many things can be rescheduled for a more convenient time.
We use prioritisation matrices to define the priorities of tasks. Especially in specialist roles, self-leadership is a key element in building a healthy career, and supporting this is a major part of my work as a supervisor.
I monitor the well-being of my staff. I may notice that a person who was previously involved in a conversation becomes quiet or withdrawn. Then I ask in private if everything is OK. Signs of overstress or other mental problems can also include a loss of problem-solving skills or the experience of not being able to influence the course of events. Sometimes people themselves say that they are no longer themselves.
If an employee's mental health is unbalanced, it's the supervisor's job to stay in their role. In an unbalanced situation, a person may spill things about their life that they would not want to share in the workplace.
That's why I don't go too deep into the situation with my employees but refer them to, for example, occupational health. Drawing boundaries also helps me to avoid excessive stress."