Freedom is a part of being on the road
Kuvateksti:
Filling up the tank of the trailer truck that runs on natural gas is a part of Atte Ikonen's work routines. Most of the work day is spent on the road, however.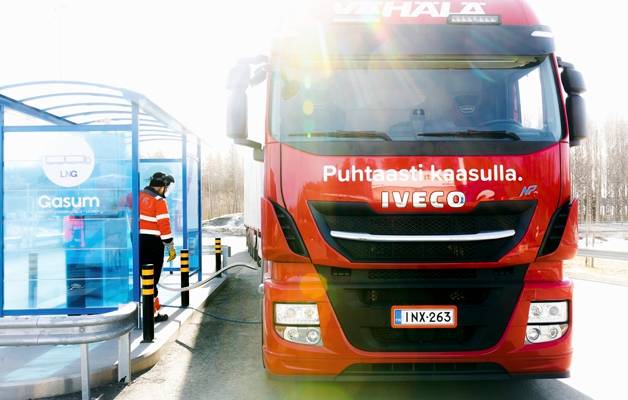 Technological advancements has significantly lightened the work of truck drivers, but tightened timetables add to the stress of mobile work. Driving time regulations, good work planning and measures to improve the worker's well-being help drivers to cope.
Hannu Lehtonen, aged 60, is the driver of a trailer truck. He has just arrived at the Vaajakoski terminal of Vähälä Logistics Co. In the yard, his faithful work vehicle is waiting – a trailer truck consisting of two semi-trailers, also called a B-train. When fully loaded, it weighs about 60 tons.
Lehtonen has been driving heavy-duty vehicles for already forty years. He has worked at Vähälä for 35 years. Lehtonen's regular route is the Jyväskylä – Helsinki trunk road. His work days begin at around noon, and last for 12–15 hours. Loading and unloading take a couple of hours altogether. Driving takes up the rest of the work hours.
Driving times and rest times are regulated by law, and they are monitored by a tachograph installed in the truck cabin. Lehtonen has to take a break on the way to Helsinki and another one on the way back.
– I have two work shifts on consecutive days.
They are followed by two free days. I do three work gigs a week, Lehtonen says.
Technology is a big help
Technological developments have lightened the truck driver's work significantly in the past few decades. The loading and unloading is usually taken care of by forklifts or motorized platform pallet trucks. And the driving is also easier now.
– The driving posture can be adjusted perfectly, better front lights improve visibility in the dark, and effective electronic break assists have made driving safer, says Lehtonen.
Lane watches, camera systems that observe the environment, automation that prevents collisions, automatic gearshifts, and cruise control that reads the terrain profile are standard fixtures in today's trucks. The driver no longer has to struggle with the gas pedal to keep the speed of the heavy trailer truck constant. The external dimensions and masses of these trucks have grown, but at the same time driving and controlling them have markedly improved.
As regards the driver's working conditions, the condition of the vehicle is also very important. At Vähälä, the tractor trucks that are used all year round are replaced every five years, and the trailers every 7–8 years. Maintenance timetables are planned in advance and winter tires are changed well before the roads get slippery in the autumn.
Driving at night
At the time when Lehtonen's work day begins, Atte Ikonen, aged 28, is finishing his work shift. Ikonen came to work at 10 pm and has already driven a load of different kinds of items from Jyväskylä to Vantaa, and returned via Sipoo back to Jyväskylä with a load of foodstuffs. Night work is frequent at Vähälä, because most of the trunk road transport takes place during the night.
– I prefer night work, because I like to sleep late in the morning. I suggested this arrangement to my employer, who thought it was alright. Two long night shifts are always followed by a couple of free days.
Break exercises keep you feeling fresh
Lehtonen and Ikonen enjoy driving as well as the freedom in mobile work. Even long stretches alone at the steering wheel of a heavy transport vehicle do not feel stressful. The time goes by listening to music or just to the quiet, and chatting with colleagues.
– Chatting with workmates is safe because of the hands-free system in the cabin. Before the time of mobile phones, we had our breaks together with colleagues in all-night cafés. At the next break we continued from where we left off at the previous one. Nowadays there isn't any time for that kind of time together, says Lehtonen.
The time pressure due to tight timetables is the biggest disadvantage of the work. Often the timetables can be kept only in ideal conditions. Another negative side is the static nature of the work. The men try to compensate the long hours of sitting by stretching during the breaks and by being physically active during their leisure time. Ikonen likes to cycle, and Lehtonen jogs as well as does repair jobs at his summer cottage.
– In winter the nasty weather conditions and darkness make you feel tired. In addition, I've had problems with my back. I try to exercise according to the instructions of the physiotherapist, and at the service station I leave my truck as far as possible so that the walking distance is longer, says Lehtonen.
Well-being at work is a group effort
According to Tiina Salonen, vice-manager of Vähälä, and Johanna Holkko, manager of HR and services, employees who drive long distances must be able to manage themselves. The three basic elements – rest, exercise and nutrition – have to be in order so that the person's well-being does not suffer from night work, variable working times and long hours of sitting.
– Many of our drivers who drive long trunk road hauls are experienced professionals. They know how to take care of their well-being. The importance of recovery is emphasized in our personnel training. Also safety requires drivers to be alert and attentive on the road, says Salonen.
However, the driver's well-being is not entirely his own responsibility. Efforts are needed also from the employer. The employees are given training in Vähälä's own training organization, the Vähälä Academy. Vähälä uses the Insta Audit program, through which the employees can send their observations on safety risks and report near-accidents. The program is also used for detailed accident investigations. In addition, Vähälä tries to provide its employees with the best possible tools and work tasks that suit their life situation.
– People are individuals and they are stressed by different things. Night work may suit one person, but not another. We try to organize work tasks and shifts so that they suit the driver's life situation and personal needs, Holkko says.
Measures and clear indicators
According to Salonen and Holkko, the health problems prevailing in the logistics sector, that is, musculoskeletal disorders and accidents, have been reduced at Vähälä by investing in the employees' well-being at work. Thorough work instruction, information dissemination, and analysing of problems, have markedly reduced sickness absenteeism. The enterprise is focussing especially on safe working and preventing accidents, as the present year is the theme year of work safety at Vähälä.
To improve the employees' well-being, a programme called 'On the road to well-being' was adopted at Vähälä. Well-being is tackled especially from the viewpoint of the logistics sector. Every employee has the opportunity to participate in fitness tests, measurement of body composition, and Firstbeat and Fibion measurements. In addition, a personal well-being plan is drawn up for those who want it. They are offered guidance in improving their own well-being, maintenance of work ability, and finding a suitable form of physical activity.
A well-being at work survey is conducted at Vähälä every two years, and four times a year a short questionnaire on job satisfaction is carried out. Starting this spring, new indicators via the Great Place to Work programme have been undertaken. These are: Trust Index personnel questionnaire and Culture Audit executive group questionnaire.
– We were the first Finnish enterprise in the logistics sector to participate in the Great Place to Work programme. It provides us with reliable data about our management practices, our enterprise culture, and information on how our employees perceive our enterprise. We can compare our results with those of other enterprises in the sector. Based on these facts, we can develop our work community to be better than ever. Our goal is to be the best logistics workplace in Finland, Salonen concludes.•