"Your colleagues will notice if everything is not OK."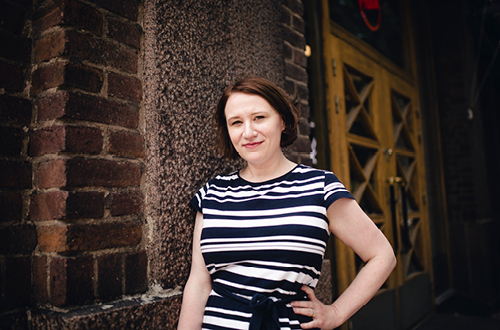 "At Alko, mental well-being is taken care of in many ways, and mental health problems are no longer taboo," says Pauliina Kamppuri, Manager of Work Wellbeing, Occupational Health and Safety.
"Alko offers its employees a wide range of mental health support. For example, you can chat with a professional in the chat room. There are also remote mind-body coaching sessions: all our employees, from Hanko to Nuorgam, can benefit equally from these low-threshold services.
Employees can also make use of the multidisciplinary services of the occupational health service, such as a mood coach, an occupational psychologist or an occupational health physician. If necessary, they have access to brief therapy, which can be a quick and effective remedy to an anxiety issue.
We have an early intervention model in place. This means that if, for example, an employee starts to accumulate a particularly high level of sickness absence or some other signal indicates a potential problem with well-being at work, the supervisor should raise the issue in a well-being discussion.
The role of the supervisor is not to solve the employee's problem but to refer them to the right help – the employee can contact the occupational health service themselves with a low threshold.
Sometimes difficult and even threatening situations can arise, for example, if you have to refuse to sell alcohol to a customer.
Fortunately, threats are rare, but we do have an aftercare model and an occupational health crisis hotline available 24 hours a day. We collect data on incidents so that we can prevent them in the future. We train our staff in threat preparedness.
We support the return to work from long periods of sickness absence and aim to provide ways of working that would support rehabilitation. For example, return to work can be facilitated through partial sick pay, work trials or work shift schedules.
Young employees, in particular, talk openly about their mental health concerns and tell their team, for example, that they go to therapy. This has brought a new openness to mental health issues, even for older employees."