Vaisala already lives in the digital age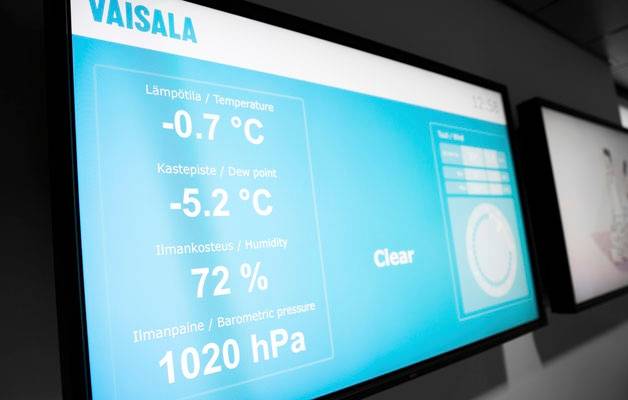 The new technology offers communication and management tools for an organization that has spread all over the world. Digital communication has also changed the way people work.
Today I will participate in five meetings through the web, says Tomi Liljemark, product manager.
– I could take part also in the sixth meeting through the web, but it's right next to my own work site, so I will just get up and walk there.
Liljemark's work is related to services dealing with weather conditions on roads. His daily work schedule is typical. For a global enterprise, the new communication technology plays a key role in working and in management.
Of Vaisala's 1600 employees, 900 are stationed in Vantaa, Finland, 450 in several places in the United States, and the rest in smaller units on different continents. There are altogether 30 offices, located in 16 countries. The average age of the employees is 42 years. Vaisala's measuring equipment and services are used in over 150 countries.
The time differences in the different countries and continents affect the daily work rhythm of the employees. In the morning, Liljemark's work day may begin at the Vantaa office and end early. He then takes a break before handling the evening meetings from his home. Liljemark's supervisor is in the United States, in Colorado, and members of his team live in Great Britain. Much of the work consists of communicating with colleagues abroad.
– Thanks to the new technology, it is not necessary to decide whether to have the whole team at Vantaa or in Colorado. The team members can be in different places, and things work out just fine, says Liljemark.
Contacts on the web and face to face
Tomi Liljemark and Mira Saksi, who is globally responsible for the development of Vaisala's occupational safety, agree that the biggest change in recent years has been the adoption of Microsoft's Lync rapid communication application. With Lync, anyone can be in touch with anyone else in the organization, and the employee's situation – whether he or she is free, speaking on the phone or at a meeting – can be seen immediately, so it is possible to avoid disturbing people unnecessarily. In addition to Lync, traditional e-mail, intranet, as well as Salesforce Chatter, which is a little like the Facebook of enterprises, are used at Vaisala. The number of phone calls has clearly decreased.
– Rapid communication systems from their part teach people to do things efficiently. Earlier, a long e-mail message was sent to all those concerned, and the communication probably ended there, but now matters are handled and completed together, Liljemark describes the present situation.
All communication cannot, nor need not be handled digitally. Saksi and Liljemark also stress the importance of meeting people in person.
– Two members of my team are stationed on the east coast of the United States. The aim is to meet them in person at least a couple of times a year, preferably more often, says Saksi.
– The rapid communication system is a useful tool for short discussions, but for example development discussions between the supervisor and the subordinate must take place face to face, she adds.
Liljemark has found that intercourse via digital communication devices is easier if you have met the person at least once face to face. Because of the personal contact the relationship changes, the name on paper or the screen gets a face and a personality.
Contacts need to be tended
The difficulty of a geographically dispersed organization is that there are no natural possibilities for coffee break chatting, which is a typical feature of ordinary workplaces. Because the daily chatting is missing, there is a threat that understanding the team members' everyday life, outside of work, will decline.
Liljemark and Saksi have solved this problem by reserving an hour every week to chat with a colleague living in another country. The time is used for talking about this and that, in order to get a picture of what is going on in the other person's life outside of work.
– An organization that is scattered around the world, and the use of communication technology present a challenge to following working hours, Saksi says.
– Because technology allows a person to work also at home, self-discipline is needed to stop working, no matter how interesting the work is. Setting aside leisure time for oneself is a matter of occupational safety and well-being.
Saksi uses the Lync application also in the training courses for Vaisala's employees around the world. In addition, she holds meetings once a month with the enterprise's occupational safety personnel via Lync. Thanks to the web, less travelling is needed, and people located in different places can be contacted at the same time. However, following up and assessing training is difficult on the web. The interactive nature of the training nevertheless ensures that people really participate actively in the courses.
– The new technology has not brought more haste to the work, but the work day is easily broken up if you continually get messages and other contacts. I turn off the communication devices if I need peace and quiet to concentrate on a particular work task, Saksi says.
– The digital equipment at the workplace can passivate people physically. You don't necessarily walk to the other end of the building to talk with a colleague, because sending a message is easier.
High-tech products
The efficient and productive use of many different communication channels requires well-functioning equipment and skilled personnel. Training gives readiness to use the devices and to guarantee information security. In an enterprise like Vaisala, information security is essential, and for instance the hard drives of all laptops taken out of the building have been encrypted.
High technology is also an inherent feature of Vaisala's products. The enterprise manufactures measuring devices and systems for monitoring weather and road conditions and conditions in industrial plants. Vaisala's products and services help clients to get a better understanding of their environment, and this in turn is reflected directly on occupational safety and productivity. Typical applications are systems designed for monitoring weather conditions on roads and for planning road maintenance.
Vaisala is participating in a project which aims to reduce slipping and falling accidents of persons who work outside in winter by informing them in advance of slippery weather. The project will continue until 2016, and it is the joint undertaking of the Finnish Meteorological Institute, the Finnish Institute of Occupational health, and Post Finland. Vaisala provides two measuring devices for the project for monitoring the slipperiness of routes for light traffic.
For more information:
Työmatkatapaturmien vähentäminen kelivaroitusmallia kehittämällä, www.tsr.fi > See number 113066.