The 'mothership' of a good work community
Kuvateksti:
Even the titles of the personnel reveal the creativeness of the workplace: atmosphere booster Nina Ruotsalainen, IT-dude Juho Syrjänen and atmosphere assistant Johanna Valkeajärvi – in the MOW library.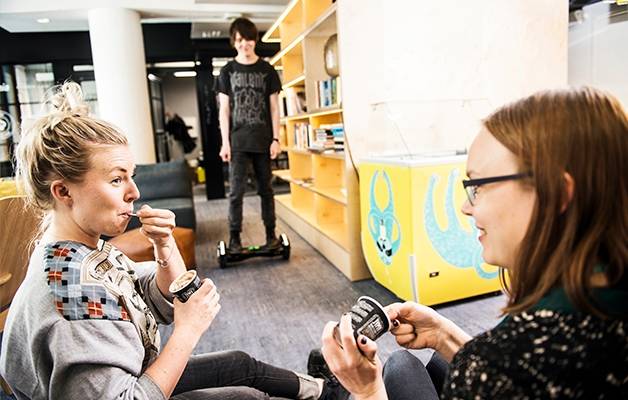 Nina Ruotsalainen is an atmosphere booster. She pilots a new happy feeling work environment in the centre of Helsinki. The space solutions at the Mothership of Work (MOW) put a smile on the face of regular as well as occasional users.
All this became possible when the researchers first started to investigate the changes in work and the new ways in which people work.
– Based on these findings we continually take into consideration the users' wishes and suggestions regarding the spaces where people prefer to work, summarizes Nina Ruotsalainen.
A six-story high 2200 square metre office building was completely renovated, except for the façade and lifts. Our aim was to create an environment that fascinates and inspires especially small-scale enterprises, start-ups, freelancers, the self-employed, and others interested in a new kind of work culture.
Ruotsalainen had worked previously for example in an old industrial district that housed shared workplaces, and as the producer of the World Village Festival. She had also been active in organizing the Street Food Festival – Streat Helsinki EATS. From these she brought with her the experience of community feeling. Years of operating a micro-enterprise helped to her to keep her feet firmly on the ground.
"We wanted to create the coolest possible version of a modern new age office".
More than just a workplace
– We wanted to create the coolest possible version of a modern new age office. The framework for working must of course be in order, but the overall atmosphere includes much more than just working, Ruotsalainen emphasizes.
– We have built a broad selection of environments for doing innovative work here. We have open space, group spaces, a café type area, sofa lobbies, and different kinds of meeting rooms. There are also more quiet rooms, quiet little nooks, phone booths, and even a perfectly quiet researcher's closet.
When a person has signed the lease or paid the day rent, they just need to enter the work community. The rooms have been cleaned, the net functions, the printers have ink, the coffee is always fresh, and there is always paper in the toilets.
– These are important points, especially if you have been used to working in the kitchen in your nightie and speaking all day long to the house plants, says Ruotsalainen, and refers to her own work history.
Additional services and activities
And finally, a long list of additional services distinguishes MOW from traditional office hotels. Especially IT support is a godsend to many small-scale entrepreneurs and freelancers. An expert who is able to help in even application-level problems is present at all times.
Diacor Medical Centre has designed an occupational health service package for the MOW people. Everyone can select the services they want and pay only for them. In addition to annual medical examinations, one can choose for example the services of a nutritionist or a physiotherapist. The reception is on the fifth floor of the same building.
At a department named 'Byroslavia', the MOW people can purchase financial services, and get help in book-keeping and legal questions. A full-service restaurant is located downstairs.
– On top of all this we offer a few activities which can sometimes have a very positive impact. There is morning yoga, services of a masseuse, a board game club, a movie club, and even spoken word presentations. Popcorn is always available, and for the summer we got an ice cream freezer. The coffees are purchased from small Finnish roasting houses, and the sorts are changed every two weeks, Ruotslainen says.
Who resides in the MOW building?
We have about 220 regular members. The range of professions is wide: architects, graphic artists, book-keepers, consultants, coders, importers, marketing personnel, musicians, artists, coaches, video producers, and so on. A few dozen people come to work here on a day pass.
– We no longer speak of innovative jobs, but rather of people who approach their work innovatively. We believe it is an advantage that our people are different. The more heterogeneous the group, the more everyone benefits from the others, says Ruotsalainen.
– We get a lot of feedback on how describing your own work to an outsider who isn't familiar with it broadens your thinking in an entirely new way. You have to respond to unexpected questions and reactions that would never have occurred to you otherwise.
An alternative to a traditional office
Also the logos of big enterprises can be seen along the MOW corridors.
– For example, the IT firm Tieto, as well as some Helsinki city departments have offered their employees a change of scenery and an opportunity to experience a different atmosphere. French Deezer and Swedish Nepa are examples of foreign enterprises that didn't want to spend time, effort or money to set up a satellite office, and therefore took advantage of a ready-made work environment, says Ruotsalainen.
Ruotslainen promises that there is always room also for day-by-day users.
– Some may fear that if they don't have a permanent work site, they might be left without a work desk. We have plenty of work sites. Around 60% of the office space is in use every day.