Enough work for everybody in Närpiö
Kuvateksti:
Ismaeil Muhammed Ataei came to Finland as a refugee from Afghanistan, and he likes his work at Smith's Garden.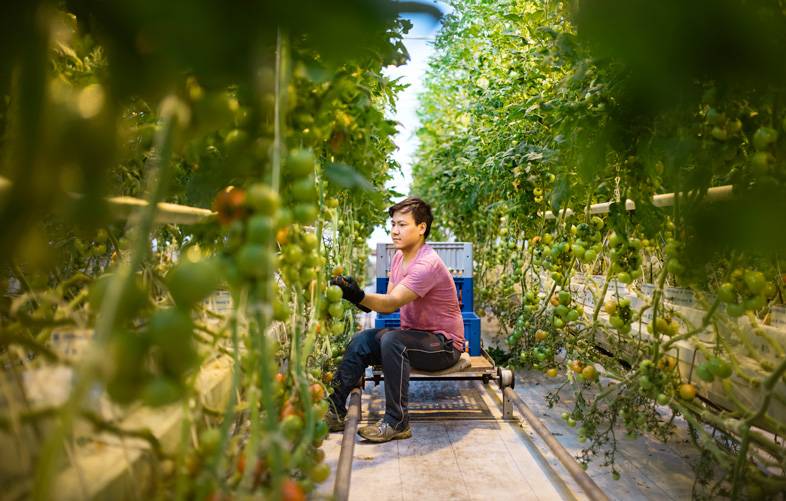 The coastal region of Pohjanmaa province in North-Western Finland is known for its entrepreneurship and for its tradition of helping neighbours. Immigrants feel that this is a good place to live, in an atmosphere of equality.
Närpiö is a city of about 9400 residents. Before the corona virus crisis the unemployment rate was only about 3% of the workforce, and there is no population drain, including young people. Due to active work-based immigration, around 30 languages are spoken in the city, and about 13% of the inhabitants are foreigners, while in the whole country this percentage is 4.7.
An international atmosphere in Närpiö's greenhouses
Närpiö is known for its large greenhouses, where 60% of the tomatoes produced in Finland are grown. One of the tomato growers is Johanna Smith, gardening agent of the producers' organization of Pohjanmaa. She started her own greenhouse business in1998, and in 2006, together with her husband Jan Smith, they founded Smith's Garden. Classic tomatoes and cherry tomatoes are grown all year around in 10,000 m² greenhouses.
Johanna Smith has held different positions in a farmer producer organization for twenty years. She is also the chairperson and board member in a couple of other producer organizations, as well as the chairperson of the technical committee of Närpiö's municipal council.
– Right now we have twelve employees in our greenhouses. They are from Ukraine, Thailand, Serbia, Afghanistan and Finland. They all take part in cultivating and picking the tomatoes. A few of them are in supervisory positions. The cooperation with the immigrants works smoothly. At first they may have some problems with the Finnish language, but we have our own greenhouse language that they learn quickly. We help the newcomers to find a residence, and with other practical things, such as finding day care or schools for their children, and helping them to register in the local administration.
Our first foreign worker came from Russia, with the help of his relatives. After that, Smith's Garden has recruited workers in the same way as other firms in Närpiö – "by word of mouth".
– Many of our workers are related to each other. When someone gets a job with us, they try to get work also for their relatives. In Närpiö, firms help each other. When the word is out that workers are needed, it's easy to find people, Smith says.
Ismaeil Muhammed Ataei came to Finland four years ago as a refugee from Afghanistan. He studied Finnish and looked for work at the same time.
– A friend told me that I might find work here, and a year ago I started working at Smith's Garden. I like it here because I have a job and a good employer. I have workmates from many countries, and all are treated in the same way, he says.
Ismaeil understands Finnish well, and also speaks a little himself. He has rented an apartment in Närpiö, and he hopes he can stay in Finland permanently.
Recruiting workers from the Baltic States
Närpiö is known, not only for its greenhouses, but also for its high-level metal industries. Närko Co. is a leading manufacturer of dolly-trailers and special structures for heavy transport vehicles in the Nordic countries. Its subsidiaries in Finland, Sweden and Norway manufacture and sell products all over Europe. Närko's personnel manager Peter Backman says that the corporation employs 250 people, of whom about 40 are immigrants.
– Most of them have come from the Balkan States, mostly Bosnia-Herzegovina, Croatia and Serbia. When we need more workers, we always look for them first from Finland. But not all Finns want to move to Närpiö, or they don't have the required training. We manufacture special products tailored for our customers, so we need trained professional workers to make them. All of our foreign workers have had the required training, says Backman.
– When we recruit workers from abroad, we have to take care of many practical things. Often the newcomer has a family that he wants to bring to Finland. The legislation demands that a foreigner shows proof of a certain salary in order to bring a family. So I have looked for jobs also for the workers' wives. Also housing has to be arranged for these people, and I have to deal with the paperwork related to immigration.
– Some workers have first found a job at the greenhouse. If they have had training and experience for instance in metalworking, they have looked for work here at Närko. The work tasks depend on their know-how, and we have immigrants working in all of our tasks. Among them are welders, painters, assemblers and metalworking professionals.
Mirsad Besic is pleased that there is no discrimination among workers
Peter Backman tells that in 1993 a group of about 130 refugees from Yugoslavia came to Närpiö.
– We hired our first foreign worker from this group in 1994. The work went smoothly, so we soon hired more of them.
– In 2005 we had a really hard time recruiting workers from Finland. Our foreign employees told us that they had friends in their homeland who were professionals and interested in moving to Finland. I then travelled to Bosnia three times to recruit workers. Altogether 22 trained professionals came to work at our plant.
All employees here have the same rights and rules at work.
Mirsad Besic, an electrician, is one of the men who was recruited from Bosnia. He assembles electrical systems and breaks into the trailers. He was trained as an electrician in his homeland, and now likes working at Närko.
– I came to Finland in 2008. My wife and two daughters are also here, and they are already Finnish citizens.
Besic is not planning to return to Bosnia, and wants to spend the rest of his life in Finland.
– I have a good job here, and we are treated equally. A big reason for my job satisfaction is that it doesn't make any difference here if you speak Swedish, Finnish or Bosnian. Everyone is treated in the same way, he says.
The rights of employees – a positive surprise
All employees here have the same rights and rules at work.
– When we recruited workers in Bosnia, we drew up the same work contract with them as with workers hired in Finland. Also the starting salary was exactly the same.
The work contract of all employees at Smith's Garden is in compliance with the conditions set by the gardening sector trade union.
– The conditions of the work contract have been a positive surprise to many. They often want to do as much work as possible, and are surprised that working on weekends and evenings is not allowed. The Finnish legislation on working time defines the length of work days and weeks. Sometimes our foreign workers are surprised that they are treated equally with everyone else, and that now and then they can have paid leave too, Smith says.
Backman and Smith both believe that there are specific reasons for the absence of prejudice among the residents of Närpiö.
– This region has a long history of Finns emigrating, for instance to Sweden, if jobs were scarce at home. Everybody has friends or acquaintances who have lived abroad for some time, or who still live there. That makes it easy to understand that a person coming from another country wants to be treated fairly. Leaving one's homeland is not easy, says Backman.
– The spirit of entrepreneurship is another reason. These people want to get things done and to see results, says Smith.