'Digital workers' change human work
Kuvateksti:
The rapid advances in technology are part of the daily work life of Helge Halonen, Niko Lehtonen and Mika Vainio-Mattila.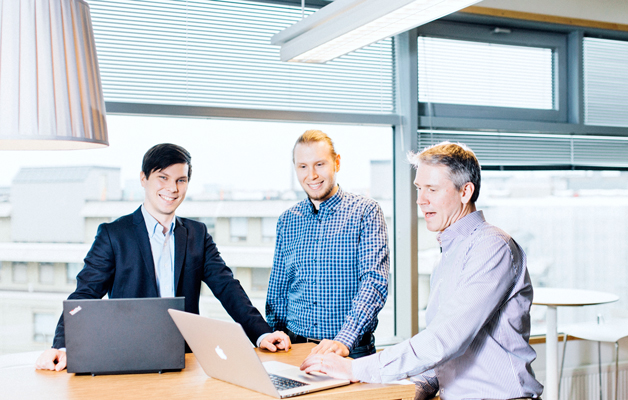 A so-called digital worker carries out the routine processes of information work, freeing people to do the work they have been trained to do. This changes job descriptions radically, opens new opportunities, but also creates uncertainty regarding job security. The work changes continually also at Digital Workforce, an enterprise that designs 'digital workers'.
Digital workers will completely change working. A digital worker will be one of the best recruits ever!" The promises on the website of Digital Workforce sound pompous, but they appear to be well justified. The enterprise offers 'digital workers' to workplaces to handle repetitious and routine tasks of information work, in other words, tasks that human beings consider to be boring.
– We automate the routines of information work with our digital workers and give people more time to focus on more productive and important tasks, says Mika Vainio-Mattila. He is one of the founders of the enterprise which was started in 2015.
A digital worker is a software program that mimics a human being's way of using a computer for repetitious work tasks. Vainio-Mattila lists some of a digital worker's advantages: it is untiring, doesn't make mistakes, and doesn't get bored.
Digital Workforce first started operating in the health care sector. Very often a great proportion of the working time of doctors and nurses is spent on tasks other than the actual care of patients. The reason for this is the need to record various information into different databases that aren't necessarily even compatible. At worst, the same data have to be recorded in many different places.
– Something has to be done differently, if over half of the medical staff's work day is spent working with the computer and not with people. In such situations, digital workers are a big help in organizing the work, summarizes Niko Lehtonen, solution consultant.
Accuracy and information security
Other sectors have similar problems. For instance, there are many routine jobs in banks and insurance companies that require extreme accuracy. According to Vainio-Mattila, the traditional custom of investing millions of euros in information system projects does not solve the problem, or if it does, it takes many years.
In addition to being accurate and untiring, for example in health care a 'digital worker' is safe from the viewpoint of patient confidentiality and information security.
The digital worker never forgets details related to the patient's treatment protocol, nor is it interested in whose information it handles. In addition, everything the digital worker does is documented carefully, and this is an advantage if something has to be checked later.
There are a variety of digital workers, ranging from virtual assistants to robotic process automats to cognitive support systems utilizing artificial intelligence. They can be used for different needs and work tasks.
– To simplify the picture, you can compare us to a staffing enterprise, says Mika Vainio-Mattila.
"In many of our client enterprises digital workers have been given names. This makes them more human-like."
The work community needs a new attitude
When a digital worker comes to work, it affects the work community in many ways. A new kind of worker arouses not only enthusiasm and curiosity, but also apprehension. Getting rid of time-consuming and boring routines, and as a result being able to concentrate on more meaningful tasks, is generally experienced as a positive thing.
When mechanical routines are eliminated, people can use their skills to do tasks for which they are best suited. This in turn can put pressure on an employee, because a changed job description may mean more demanding work tasks and the need to learn new things. The digital worker handles the easy cases and basic routines, whereas solving exceptional and difficult cases is left to humans. And when part of a person's old work disappears, the entire future of one's work career may become uncertain.
People may at first find it difficult to believe that the digital worker really does carry out faultlessly the tasks assigned to it. Learning to trust a digital worker differs from learning to trust people, because a digital worker doesn't sit on a chair in the office, and during a break you can't chat with it over a cup of coffee.
When a digital worker is taken into a team, a new kind of attitude is required of everybody, and especially good leadership from the supervisors. A digital worker has to be orientated, in other words, programmed to its duties, and later also to possible changes in them.
– In many of our client enterprises digital workers have been given names. This makes them more human-like, Niko Lehtonen says.
According to Mika Vainio-Mattila, humanizing them is fine, because it emphasizes the way in which digital workers are supervised.
– Supervising a digital worker is more like supervising an ordinary employee than supervising a programming project, says Vainio-Mattila.
– Right now we are developing solutions that help employees to see what digital workers do and how their work proceeds. This makes it more understandable for all members of the work community.
Working times in the spotlight
Changes in working affect also Digital Workforce. The technology related to digital workers is new and is developing rapidly, so the daily work of the enterprise's employees consists of continuous learning and development activities. Their work is specialist work – they have a lot of freedom but much is also expected of them.
– No one ever comes to tell me what I have to do. The firm trusts that the employees are able to act independently and with their team, explains Helge Jalonen, solution consultant.
The enterprise has offices in Helsinki and Stockholm and employs some 50 people. It has grown rapidly, and the increased number of employees has raised the issue of well-being at work to the forefront. According to Vainio-Mattila, explicit structures have been established for everybody, so they know what is expected of them. Also openness and a low threshold of bringing up any questions is emphasized.
– The constantly changing work and development activities complicate well-being matters because the overall situation is changing all the time, says Vainio-Mattila.
– We try to avoid unnecessary bureaucracy as much as possible, but there must be certain basic structures. Last autumn we drew up an official framework for employee well-being matters, and systematically started to go over central issues.
Vainio-Mattila, Lehtonen and Jalonen all agree that autonomy at work is important. The perception of the employees regarding how they are able to manage their own work is essential from the viewpoint of well-being. Working time is an integral part of this equation. Vainio-Mattila says that last spring they started to follow up working times, because due to the nature of the work the hours are irregular and the days may be very long.
– Now we have the means to identify the risk if the working times start to stretch too much and for the wrong reasons.