Concentrate on the remaining work ability
Kuvateksti:
Airi Haapalainen and Sinikka Juvan know from experience that working in a school kitchen requires a lot of standing.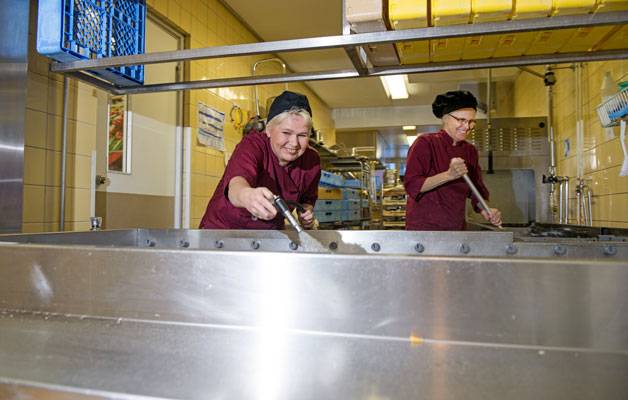 A serious problem came up at Serviisi, a service enterprise owned by the city of Oulu: many employees retired prematurely, sickness absences had increased and their costs were high.
Serviisi employs 660 people and provides meals and cleaning services to schools and children's day care centres, as well as various care institutions, workplace cafeterias, offices and sports facilities. The work is physically quite heavy, and many employees have musculoskeletal diseases. This, in addition to the high average age of the employees, 51 years, increases the risk of premature retirement.
The stories of the following three women are examples of cases that were all too familiar at Serviisi at the beginning of the millennium.
Salla Arffman liked working in the kitchen: she had worked as a cook and as a service employee since she was 18. She might still be working there if she hadn't developed arthritis in her hand – this forced her to stop kitchen work.
The kitchen was also the work site of Airi Haapalainen, cook, for 20 years. Then came health problems which made it impossible for her to stand all day. That was a tough break for Haapalainen, who really liked her work.
Pirjo Pesonen, for her part, believed she would do cleaning work all her life. Her health problems started in 2005 and worsened in 2011, when the work postures began to be too painful. Evenings and nights Pesonen suffered from pain at home, and at work she struggled to get through the day. Shortened work days were frustrating, and the idea of changing to some other kind of work was depressing because she had always like her work.
Attention has now been focussed on the employees' remaining work ability, and work tasks at Serviisi are being altered accordingly. This has helped to lengthen the employees' work careers.
The work ability coordinator is a link
The manager of Serviisi, Riitta Lappalainen, explains that the rising personnel costs were the first impulse for the development work. The increased expenses resulted from the premature retirement of a large number of employees.
– We decided it was time to start thinking of new ways of dividing the work into smaller entities. We analysed the work of a single employee and tried to design a manageable work entity that he or she would be able to do and stay healthy and avoid early retirement, says Lappalainen.
The remaining work ability of the employees was looked at more closely. Leena Ahonen, personnel planner and work ability coordinator, stresses the importance of a solution-oriented approach. The work ability coordinator now acts as a link between the different groups and hierarchy levels at the Serviisi organization. Ahonen spends about one half of her working hours in the planning and following up of individually tailored work solutions.
– I'm a specialist, not a supervisor, so I make sure that the employee's work ability and work tasks are compatible, says Ahonen.
Both the employer and the employee are responsible for the employee's work career and for making changes in it when needed.
A proactive approach
Collaborative action at the workplace is at the core of the renewed management strategy of work ability. Serviisi cooperates tightly with the occupational health service of the city of Oulu. This is a companionship in which the partners work very closely, according to Lappalainen. The beginning wasn't easy, because reaching a common understanding requires work.
– A well-functioning action model has been created together with the occupational health professionals. They are familiar with the health aspects, while we know the work tasks and their contents, Lappalainen adds.
According to work ability coordinator Ahonen, the key elements of the model are a proactive approach and early intervention. But they work only when the cooperation of the supervisors, employees and occupational health services is smooth and open. If problems turn up – for instance long sickness absences – then it's already too late, Ahonen says.
– A lot of responsibility has been given to the work teams, and in an ideal situation the team itself can reorganize its work tasks. Also the supervisor is well acquainted with the tasks of his or her subordinates.
Ahonen reminds that both the employer and the employee are responsible for the employee's work career and for making changes in it when needed. Attitude and motivation are decisive in achieving a satisfactory outcome.
– The work community, the employee and the employer must all be committed to this joint effort.
Significant advantages
The new proactive action model has been developed at Serviisi since 2009, and according to Lappalainen and Ahonen, the results have been encouraging during the past couple of years. Sickness absences have diminished and work careers have lengthened by 2–5 years, depending on the case. The employees' well-being at work and job satisfaction are better, and productivity has also improved. A good team spirit and cooperation prevail in a more close-knit work community. People begin to realize that they can't just wait passively, because it is inevitable that work life changes continuously.
The progress made at Serviisi is also manifested by economic success, which researchers Guy Ahonen and Matti Joensuu from the Finnish Institute of Occupational Health analysed in their study. The yearly profit is about 50,000 euros. It is difficult to calculate exactly the economic benefit accrued in the course of the years, because the savings accumulate over a long time, and numerous factors play a role.
– The employer's and employee's advantages are the same, because both benefit from taking into consideration the employees' remaining work ability and the moulding of work tasks. The city of Oulu has decided that in future the model applied at Serviisi will be extended to other branches as well, Says Ahonen.
Work trials and training
The big picture at Serviisi is now clear, but what happened to the three women introduced in the beginning?
After Salla Arffman developed arthritis, she moved on to a supervisory position in the kitchen. At that time she was already studying supervisory skills, and had occasionally been the supervisor's substitute. After one year she applied for the post of a project worker in the administration and got it.
– I want to advance in my career and move on to administrative tasks. I am now working and studying economics on the side, and I plan to continue studying later for a vocational university degree (tradenomi), Arffman says.
Airi Haapalainen is also in the process of retraining for a new job. Last September she started supervisory studies in the hotel and restaurant sector. These studies consist mainly of on-the-job training and include also theoretical elements. She will graduate in spring 2016. She tried out this type of work first as a work trial, and liked it.
Pirjo Pesonen struggled in her old job for a year and a half before admitting that it was absolutely necessary to change to different work. She had always liked working with children, but a job in a day care centre was out of the question because one had to bend over and stoop, and the furniture was low. Last spring she tried out the work of a support person for children needing special help at school, and liked it. Now Pesonen too is also enrolled in the on-the-job training programme, and she too will graduate in spring 2016.
– Now looking back, I don't understand why at first I resented the thought of changing my work so much. I was a hundred percent wrong, she says.
More information in Finnish: www.tsr.fi > see number 112258.