A Welshman in remote induction in Vantaa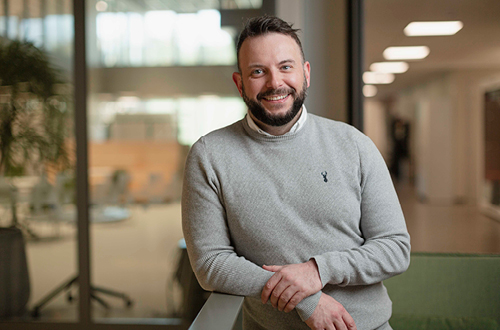 Tristan Williams is originally from Wales but currently works in the marketing team at Vaisala. He started at the height of the COVID-19 pandemic, so the induction was done remotely.
"I started working as a Strategic Marketing Manager at Vaisala's Weather and Environment Business Area two years ago. I had been living in Finland for years and was looking for a job here in a global company dealing with climate change, sustainability and modern technology.
I had the opportunity to be interviewed, first face-to-face in Vantaa by my future supervisor just before the pandemic and then remotely by a marketing manager in the US. I immediately got the feeling that I really wanted this job, so I was delighted when I was chosen.
My supervisor introduced me to the team members  during a Teams meetings.
When I started in April 2020, Vaisala was working remotely because of the COVID-19 pandemic, so I also started remotely. However, I was able to go to the office to pick up a computer and other necessary equipment.
My supervisor introduced me to the team members and other people I would be working with at Vaisala during a Teams meetings. I was given contact details and booked remote meetings. My colleagues were very helpful, and I got to know them quite naturally, even though we didn't meet face-to-face right away.
The first time I met my team was at an outdoor picnic, which was a very nice event. There I found that I already knew everyone quite well, even though I had only met them remotely. We also had more informal Friday meetings at Teams, and there we got to know each other even better.
I also felt it was important that the supervisor was in constant contact with me.
The content of the remote induction was similar to the in-office induction. A two-day organisational induction was also held online, with presentations by the CEO and the business area managers, among others. However, the most important thing for me was to get to know my colleagues and the rest of the team right away; apart from the tools, the most important thing in a new job is the contact with other people.
I also felt it was important that the supervisor was in constant contact with me to check how I was doing and how I was getting on in my job. All my colleagues were also helpful, and frankly, I have never experienced such care in my career before. I got absolutely everything I needed.
My working language is still English.
I noticed that Finns are more direct in their speech than the British, which took some getting used to. Now I think forthrightness is a good thing. I also like the low hierarchy, so that an ordinary employee can have lunch with, say, the CEO. In the UK, that wouldn't be very natural.
Despite the fact that the induction took place remotely, it went surprisingly well. Vaisala is a global company, so we are used to rapid changes and modern technology, also in communication, so the transition to remote working was smooth and everyone was quickly ready for it. This was certainly the reason why remote induction was so smooth right from the start.
My work has lived up to the image and promises made in the job advertisement and during the interview. I have been able to do marketing in a modern way, in an international environment and an inspiring atmosphere. My working language is still English, but I listen fluently to Finnish in meetings."
Read more:
You are warmly welcome on board
Handling high-voltage work alongside an expert
Becoming a removal man in two days